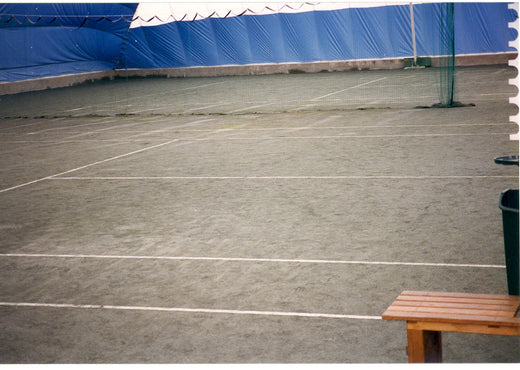 While the bulk of us are basking (or gasping) in the dog days of summer, at least a few tennis facilities are starting to prep for the indoor tennis season. Depending on what part of the country you live in, the indoor season can be as short as three months or as long as nine. Leveraging the summer months to assess and address your indoor court needs is the very best way to lay the foundation for a very successful indoor season. 
Assess & Address
Court surfaces: If you have Har-Tru courts, check the surface for traction and compaction. Without the weathering that occurs on outdoor courts, Har-Tru becomes hard and slippery. Our Indoor Maintenance Manual suggests a variety of ways to address the compaction. This must happen in the off season or the courts become increasingly difficult to manage. 
If you have hard courts the surface also wears and becomes slippery. Depending on the volume of play, resurfacing every 3-5 years is recommended. Many have this done several courts at a time which is more economical than having all courts done at once. Consult with your pros and top players, and invite contractors in to provide their opinion. Re-coating your courts needs to happen with ample time for the coatings to set up and dry. 
Irrigation: For those of you with clay courts, having the ability to apply consistent, controlled amounts of water to your courts can make a significant difference to traction. If you are not equipped properly, or feel your systems are inadequate, contact your Har-Tru representative or a local irrigation expert for alternatives. Also consider if you can modify scheduling to better support maintaining appropriate moisture in your courts. 
Nets: Check each net carefully for wear. Nets tend to break down along the bottom band and at the base of the headband. Look for worn or unraveling threads. Make sure your center straps are holding tension properly. Replace as necessary and keep an extra net and center strap on hand at all times.
Backdrop curtains and divider netting: check to see if all backdrops and dividers are hanging properly. Cables may need to be re-tensioned. Verify that the curtains and nets are free from holes. The bases of these items tend to wear fastest and they are difficult to replace mid-season so consider any weaknesses now. 
Tennis Court Lighting: The overall quality of light diminishes quickly and light loss can severely hamper play. Most facilities try to re-lamp in the off-season every two years. Alternatively, a light meter can be ordered online and will allow you to monitor how quickly the light levels in your facility are changing. Plan for the adjustments at the appropriate time. 
Equipment & Amenities: Don't forget your maintenance equipment and the many items that make the playing environment more pleasant for players. These can include drag brushes, lures, line sweepers, benches, coolers, court organizers, trash cans, ball baskets and so on. Many successful planners take an inventory this time of year and restock a percentage of the items to keep the equipment healthy and the overall facility looking new. 
Remember that Har-Tru is always here to help with all your facility questions and needs. We understand that each situation is different and has its own complexities. Please contact us anytime to discuss your particular situation. 
Har-Tru will be conducting an indoor maintenance seminar this fall.. This event will cover the best methods for maintaining indoor Har-Tru courts. There will be a variety of specialized tools on hand for testing and demonstration. Stay tuned as we finalize dates and a location.