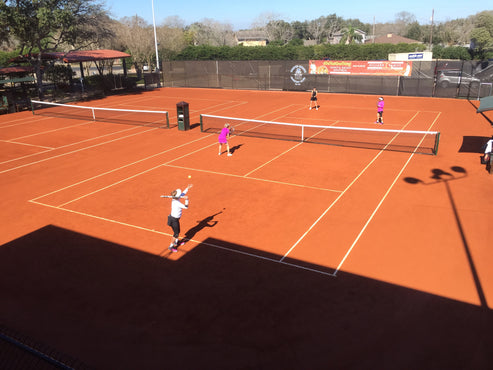 What to expect and how to prepare for when summer is in full swing
I know that right now the focus in much of the tennis world is on the arrival of spring and on getting the HAR-TRU courts open for the busy season.  This is a full-time endeavor but you shouldn't let it prevent you from thinking ahead and considering what to expect when summer is in full swing.  According to NOAA's climate prediction center - much of the US and parts of Canada can expect continued above-average temperatures with normal, or average, amounts of precipitation.  Doesn't sound surprising or even that concerning but when you think about it, the same amount of rain with higher than normal temperatures means it will be more difficult to keep your courts wet.  
What can you do about it now?  Order extra Calcium or Magnesium with your spring order of HAR-TRU.  Consider your court equipment and accessories and invest in tools like the Aussie Clean Sweep that won't dry out the court as much as a drag brush.  Upgrade your irrigation system with more and/or better sprinkler heads and with a more advanced timer.  Consider whether you can modify your maintenance schedule one or two days a week, to allow you longer, day-time, watering cycles.
The 5 to 10-year outlook is for rising temperatures to continue and possibly accelerate.  This is one of the reasons we have decided to run the Buy 2 and Get a 3rd Court Free campaign for HYDROCOURT.  HYDROCOURT creates a better place to play by reducing water consumption by as much as 60% while keeping your courts uniformly wet and ready for play all day long, all season long.  Use this summer to gather data on your courts including temperatures, precipitation, playability, down-time, labor, and water usage.  You can organize it alongside the climate prediction data to better prepare your facility for the hotter future ahead.