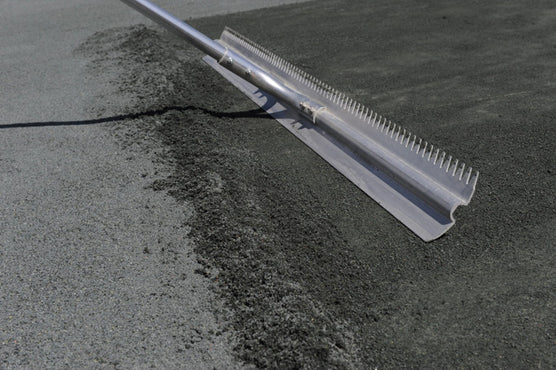 The sun is shining, the days are longer, and it's almost time for the spring tennis season to start! Before your players get back on the court, it's also time to tidy up and make sure everything is ready to welcome them.
Spring into Action

As the old saying goes: the sooner you start, the sooner you're finished.
Begin by cleaning your courts. Get rid of any leaves, trash, or debris that's piled up over the winter. Then make a light pass to scrape the court for oversized particles and other bits of surface material.
Once you've got the area cleared out, make an inspection for divots and low spots, check your lines to see if they've curled or need replacing, note any areas that are hard or slippery (go ahead and scarify them), and clear out those drainage channels.
It's starting to look better, right? 
Level it out. Scrape down high areas (like where the lines were), and patch low areas. You probably have a set of familiar tools for this; but if not, head over to our product pages and restock what you need!
Add new clay or HAR-TRU. Top Dressing is usually applied at a rate of two tons per court; sometimes you'll need more, sometimes less. Take stock of your court and see for yourself.
Finally, lay down the lines. Install new line tapes as needed. If the texture hasn't worn off, you might be able to use them again. When in doubt, throw them out and get bright new lines to start the season.
Those are the basics, to make your courts look like new. Once you're surface is ready to roll, take a minute to see how your benches, nets, coolers, and accessories look. The extra mile to spruce up your amenities goes a long way.
Now you're ready to fill those courts and get your players back into the swing!