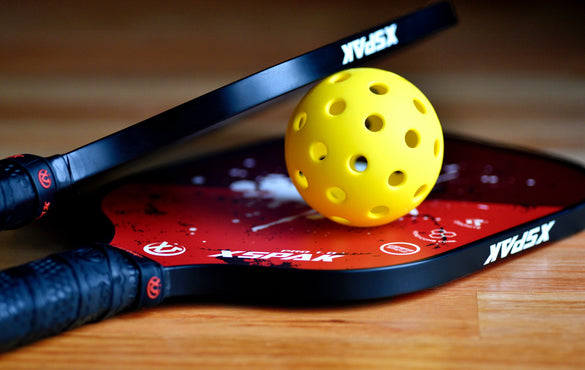 As Pickleball continues its "boom" across the U.S., the growth in participation has highlighted the need for more courts. Throughout the country, a tug-of-war between Tennis Players and Pickleballers over court availability is becoming more and more apparent. We are seeing a trend of tennis courts of all surface varieties being converted into pickleball courts.
Is there a happy and cost-effective solution to appease both tennis and pickleball players at clubs across the U.S.?
Over the past 12 months, we have received numerous phone calls and emails inquiring about the cost of pickleball court resurfacing and whether pickleball can be played on Har-Tru Clay. The answer to the latter is YES, pickleball can be played on clay!


Har-Tru clay pickleball courts at the Baltimore Country Club


Jarrett Chirico (Director of Racquets at the Royal Oak Club in Dallas, TX) pioneered Pickleball on Clay at the Green Valley Country Club in Pennsylvania. To this day, he continues to help club directors across the country grow pickleball on clay. Chirico's vision of playing pickleball on clay provided a different option for a sport predominantly played on hard courts and indoor gym floors. It also preserved the clay court his country club invested thousands of dollars to build.
As the foremost expert on clay courts, Har-Tru wants to continue Jarrett Chirico's idea while innovating slightly to preserve your clubs' clay court. So, how do we make your clay court a viable option for pickleball? Here are a few suggestions:
Har-Tru has designed pickleball lines specifically for clay. Next time your court is due for spring reconditioning, ask your local contractor to install our pickleball lines for clay instead of your traditional tennis lines. These lines are your standard 2-inch lines (same as tennis) but formatted to 44 feet (long) by 20 feet (wide). Har-Tru also carries specialized pickleball nets and posts for a full conversion.  
You'll enjoy all the fun of pickleball with the health benefits of playing on clay – a cooler, soft, sliding surface that reduces common injuries.
Depending on your court design, your contractor can transform your one tennis court into three or four clay pickleball courts.
Besides changing the lines to make your court pickleball friendly, another critical element for playing pickleball on clay is keeping your court well groomed.
Daily and periodic best practices around court maintenance for clay court pickleball courts:

On a daily basis, the courts should be kept smooth and firm by brushing and grooming the surface with a Drag Brush, Aussie Clean Sweep, Gator Rake, or Steel Bristle Drag Brush, depending on the time of day and the conditions, followed by a firm and smooth rolling of the surface. The playing surface should always be groomed to a uniform "velvetized" texture before rolling.
On a weekly basis, any loose "dead" material or excess sliding material should be scraped and removed before it has a chance to build up.
For above-ground watered courts that go through a wet/dry cycle daily, the above-mentioned recommendations will be required on a more frequent basis with the added applications of magnesium chloride or calcium chloride during the hotter part of the season to help retain moisture in the Har-Tru profile.
For sub-irrigated courts, the moisture levels should be maintained so the surface is firm and damp but not wet.
Finally, play with a slightly firmer pickleball like the Onyx Drive 2 for a more optimal bounce and play on clay.
So, before converting your Har-Tru clay into a hard court for pickleball, try our low-cost option. It will not only save you money, but it will also reduce the stress that is put on your joints and ligaments.