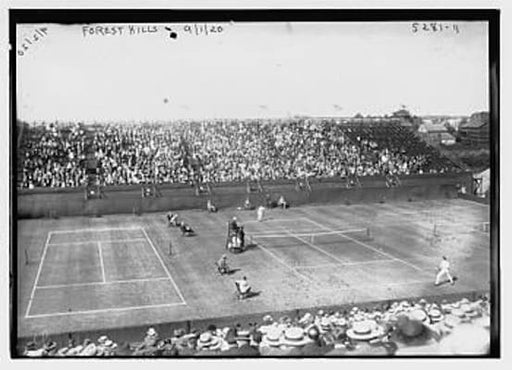 The US National Championship, subsequently the US Open, was one of the earliest, national competitions in the US, predated only by horse racing and baseball.  While other sports, such as Cricket, Football and Golf, were certainly around they did not develop organized national competitions until later.
The First US Open
Date: 1881 – then contested as the US National Championship
Site: Newport Casino, Newport, RI
Champion: Richard Sears
First US Women's National Championship: 1887
Site: Philadelphia Cricket Club
Champion: Ellen Hansell
The Challenge System
The US Open used a challenge system through 1911 so the defending champion had an automatic berth into the finals and would take on the winner of the "all-comers" tournament.  Talk about an advantage!
The Open Era of Professional Tennis Begins
1968 Men's Champion: Arthur Ashe              Prize Money: $14,000
1968 Women's Champion: Virginia Wade      Prize Money: $6,000
2017 Prize Money
Singles:               Winner $3,700,000        Finalist $1,825,000                First Round Loser $50,000
Doubles:            Winners $675,000          Finalists $350,000                First Round Losers $16,500
Mixed Doubles: Winners $150,000          Finalists $70,000               First Round Losers $5,000
Youngest & Oldest Champions
Youngest Men's Singles Champion: Pete Sampras in 1990 – 19 Years 0 Months 28 Days
Oldest Men's Singles Champion: William Larned in 1911 – 38 Years 8 Months 3 Days
Youngest Women's Singles Champion: Tracy Austin in 1979 - 16 Years 8 Months 28 Days
Oldest Women's Singles Champion: Molla Bjurstedt Mallory in 1926 – 42 Years 5 Months 27 Days 
A side note on Molla Bjurstedt -  She was born in Norway and naturalized to the US. She also holds the record for the most US Open titles (8) by any player, and this was after the elimination of the Challenge System.
US Open Surfaces
1881-1974: Grass
1975: Har-Tru – Won by Manuel Orantes and Chris Evert
1976: Har-Tru – Won by Jimmy Connors and Chris Evert
1977: Har-Tru – Won by Guillermo Vilas and Chris Evert
1978-Present: Hard
Jimmy Connors is the only player to have won the tournament on all three surfaces.
Let's get a major tournament back on Har-Tru!!
Many have suggested that the US Open was moved to hard courts because Americans could not beat the Europeans on clay.  The above shows that this simply was not true!  This is further bolstered by the fact that Connors was also the finalist in 1975 and 1977.