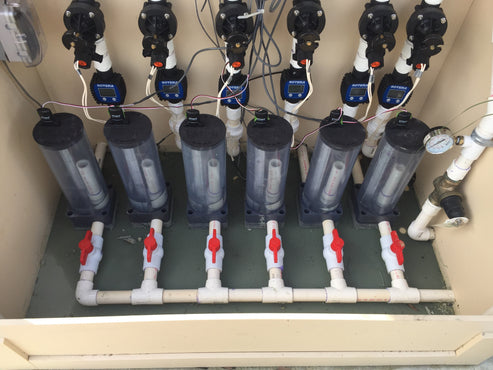 Did you know that 3 of every 4 courts that are built today are constructed with sub-surface irrigation? In the 1990's, the concept of HydroCourt transformed the clay court industry.  It was adapted early on in places like Florida and Southern California, but now is being utilized around the world in every climate imaginable. In the late 1990's the original HydroCourt design was modified to make it simpler to build.  Twenty-four months ago, Har-Tru's product management team decided it was time to modify it again, this time with a focus on making it easier to operate and maintain.  After two years of researching irrigation technologies, testing and tweaking concepts, HyQ is ready for launch, incorporating concepts that save time and water while simplifying operation and improving the performance of the court.
The HyQ Court was built off the proven principle of maintaining a water level with a self-regulating system that is fully adjustable.  What makes HyQ different is that we've shifted the controls to the backend of the system. The water that enters each cell is under pressure and it circulates rapidly through the cell and then out to the control center.  The result is a system that fills faster and responds to adjustments much more quickly.
The beauty of the control center is that it is completely digital.  You will be able to fine-tune controls with a digital touch pad and make more responsive adjustments within a 10th of an inch, increasing both speed and precision.  This is a vast improvement over the water fill valves found in traditional HydroCourts as they can be inconsistent and manual adjustments are not easy to measure.  Once dialed in, there are 4 presets that allow you to save preferred settings for Hot & Dry, Cool and Wet, or any other conditions your regularly encounter.  This feature saves a lot of time adjusting every cell individually.
The HyQ Court's intelligent design is highly augmentable and will allow owners to optimize the amount of water in their court which will ultimately save water usage and help achieve desired playing conditions.  In fact, you can even monitor the gallons of water you are using daily with the preinstalled water meters on each cell. 
The future of this court is one that will appeal to the next generation of tennis court maintenance personnel.  The digital control panel will allow for further advancements such as Wi-Fi connectivity that will enable control of the system from an app that can be accessed anywhere.  Future upgrades will also allow for reporting on optimal water usage, downtime, and more.
With HyQ, it's easy to see and understand the entire sub-surface irrigation process at a glance, creating a better overall court experience for clubs and court owners.  HyQ is not something that can be retrofitted so it may be time to consider transitioning your courts, HydroCourts or other, to HyQ.  The new system will be available now…the future is approaching quickly, are you ready for it?