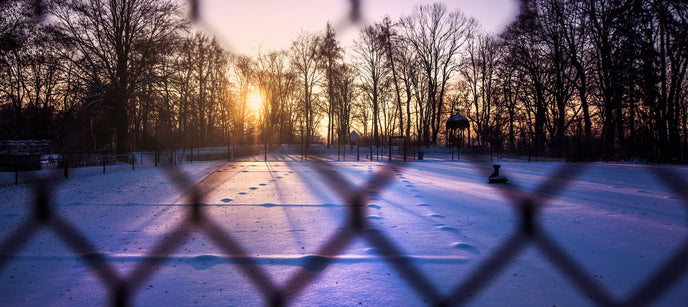 Closing courts down for the winter is an annual procedure for some 60% of the US and all of Canada. Often it happens after members have switched to indoor play and after many pros and maintenance personnel have departed for the season, so it doesn't always get the attention it probably should. But closing courts down properly will make it easier to open them in spring and can help improve the longevity of the courts and maintenance equipment. Here are a few suggestions for your shutdown process:
Take down the net, roll it up and place it in storage. Be sure to label what court it came from and whether it has become damaged and needs to be replaced.


Pull out the net posts (assuming they are in sleeves), cap the sleeves so no water and debris can get in (find a cap, have one made or just use tape) and store posts indoors. It's a great idea to sand these down and paint them in the offseason.


Line Tapes – In some more moderate climates the tapes can be kept down over the winter. This is typically accomplished by either placing boards on top of them or by rolling the lines in with a hand roller while the court is frozen. Some walk the lines by literally walking on them when the courts are frozen. In any case these are strategies for keeping the tapes from popping out after all the freezing and thawing. Keeping the tapes down gives you some flexibility in the spring to open more quickly and, if necessary, shut the courts down just one at a time for ½ day later to replace lines. If you net new tapes each season or don't care to keep them down, pull them out as soon as the courts close.


Irrigation Systems – if you have a pressurized system this should be shut down and all water blown out prior to any freezing. Sprinkler heads should be taken off and stored indoors for the winter. Risers should be capped. If you have a HydroCourt system, all float valves should be removed from the boxes and stored inside. Drain plugs should be pulled to allow the court to drain freely. Don't forget to make a record of where the water levels were set so you will have a starting point next spring.


Tools & Equipment – Take tolls and court equipment down, inventory all of it (makes notes of damage and replacement needs) and store it out of the weather. Drain gas out of rollers and other power equipment.


Court Covers – In our experience, courts that are covered for the winter generally can be opened up 2-3 weeks earlier in the spring. Covered courts take on less moisture and experience less heaving during freeze/thaw cycles. They also experience less erosion. Court covers are particularly effective for windy winter environments as they prevent Har-Tru from being blown off the court.


Fall Top Dressing – While reconditioning courts just prior to winter might sound odd, some facilities have made the switch and get their court open for play 3 weeks earlier in spring as a result. Once courts have been scraped, patched, scarified, and leveled, a winter under wet snow helps them so that all that is needed in spring is a light scraping and lines. Fall top dressing is not recommended if the courts are subject to windy conditions with little snow cover as the Har-Tru will be blown away.
What are your best tips and tricks for closing your courts for the winter?