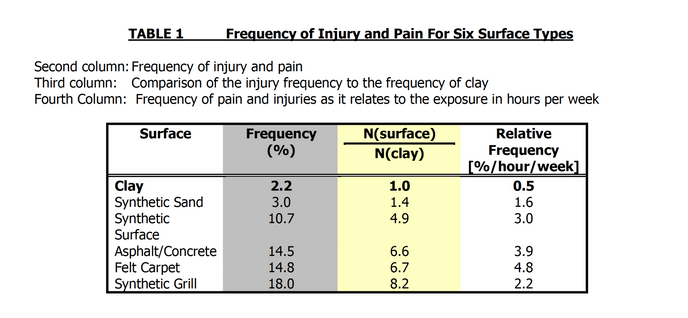 Do clay courts help prevent injuries in tennis? The short answer is yes. The longer answer is is contained in this study of court surfaces and injuries by Dr. Benno M. Nigg, of the University of Calgary.
What any experienced player can tell you is this: playing on clay, where you slide rather than have jarring impacts on your joints, allows you to play longer, more often, and with less stress on your body. You can download the study results below, but here's one particularly telling passage:
Two factors are clearly connected with the frequency of occurrence of locomotion injuries, the surface and the shoe. In the case of the surface, the solution seems to be clear. Surfaces that allow sliding are expected to have about 75% less locomotion injuries than surfaces which do not allow sliding. Since "sliding" surfaces which allow a 24-hour per day tennis activity are now on the market, a change to these sliding systems is expected to reduce the frequency of locomotion injuries in tennis.
Download the study results here.
Now get out there and play more tennis!