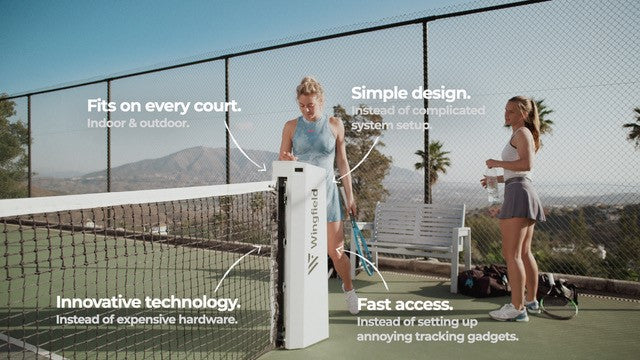 Wingfield and Har-Tru Collaborate to Expand Tennis Tracking Technology to U.S. Market
On the heels of a €4 million (US$4.24m) round of Series A funding, German startup Wingfield is moving aggressively to capitalize on its European footprint and expand into US markets. In 2023, the company entered a partnership with Har-Tru, the Virginia-based tennis company renowned for its courts, equipment, and historic legacy with the sport.
The partnership puts an emphasis on new court technologies being developed to enhance the player experience. By the end of this year, the two companies will equip a group of U.S. facilities with the Wingfield Box, an AI-based tracking system.
Founded in 2017, Wingfield is the leading tennis tracking technology provider in Europe, operating in 16 countries. Their technology is used on more than 400 courts, ranging from small tennis clubs to large academies, hotels, and colleges. The system is actively used at training institutions such as the Rafa Nadal Academy, the Boris Becker International Tennis Academy, and in 2019 was installed at Wimbledon for the Road to Wimbledon junior tennis tournament.
What is a tennis tracking system?
On one hand, you have complicated tracking systems used in officiating tennis matches. They incorporate ten to forty cameras combined with doppler, sonar, laser, or other technologies. On the other hand, you have the Wingfield Box, a simple and accessible AI-based tracking system wrapped in a modernist net post.
"It's a compact system designed to blend in to the tennis court," writes Julian Chua for Sports Technology Blog. "The Wingfield Box replaces one of two net posts and it houses a touch screen and two high speed cameras pointing to each side of the court. In addition, there is a baseline camera that can be mounted anywhere around the court to record video footage of each session."
The cameras and tracking system record all on-court activities, including shot types, speed, precision, and player movement. The system syncs the most relevant information with the recorded video footage and brings it together in graphic form on an app. Players can easily see their results, reflect on their game, or compare their performance with players on the professional tour.
Expansion in the USA
"This is one of the most interesting and exciting partnerships we have been involved in," says Sandy Hunt, Vice President of Product for Har-Tru. "It is a brilliant way to connect tennis players with valuable insights using court infrastructure.  Har-Tru has a long history of pushing forward on court innovations.  We see a future where clubs all across the US will have this technology available on multiple courts for players to advance their game."
Some clubs, such as the LTP Academy in Charleston, South Carolina, have already had the chance to use Wingfield's technology and have reported positive outcomes. As part of a pilot program in 2021, the academy fitted one of its courts with the Wingfield Box and observed the technology's advantages firsthand.
"We've found Wingfield to be an incredible tool for our players," said Patrick Hieber, Director of Tennis at LTP Academy. "Getting instant feedback on their match performance and the ability to use video for debriefing sessions at any time helps us to improve our players a lot. Since Wingfield is now entering the US Market, we want to add their system to multiple courts to give all our players access to video and data."
Leveraging a legacy
"Our mission at Wingfield is to make it easier for players of all standards to identify personal opportunities for improvement and make practice more engaging," said Jaan Brunken, Founder & COO of Wingfield. "We're excited about our partnership with Har-Tru, and the opportunity to do that for as many players as we can."
After more than 90 years as an icon in the tennis industry, Har-Tru has longstanding relationships with clubs, organizations, and players around the world. The company also has a consistent track record of product development — from court surfaces to maintenance tools to digital irrigation. The Wingfield partnership plays to Har-Tru's strengths in innovation, knowledge, and experience.
"We're partnering with Wingfield because we believe in their technology and in their desire to help create better places to play," said Pat Hanssen, president of Har-Tru. "We believe in them, and we believe we're the right company to accelerate Wingfield's entry into the U.S."
---
Clubs and Players
To learn more about the Wingfield Box and how to install the system, visit wingfield.io/en. 
Journalists and Media
You can find more information and media downloads in Wingfield's Press Room. Or contact us directly at press@my-wingfield.com.
About Wingfield
Wingfield is using smart-data and digital analytics to track on-court player performance to measure, improve and develop personal performance levels. Wingfield aims to be the number one video and tracking platform for racket sports.
Based on artificial intelligence and innovative image processing technology, the Wingfield Box tracks all activities on the court. Using real-time performance data, it enables players and coaches of all standards to measure their personal improvements for the first time. Interactive practice formats with direct feedback by the Wingfield Box blur the lines between analog and digital experience on the court. And a wide range of match statistics, previously only known from pro tournaments like the US Open, suddenly allow amateur players to compare themselves with their stars.