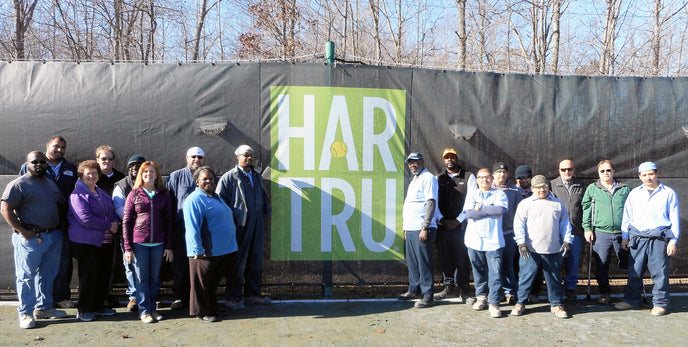 Today Har-Tru launches what is by my counting the 6th website in company history. It is our first full redesign since 2008 and it has me reflecting on how our website design and construction has evolved. Har-Tru's first website went live in 1993. I think that's pretty darn good since this was just a short two years after the first website ever went live.
We were known as Lee Tennis back then. Needless to say, it was quite simple - little more than a landing page that had our company name, description and contact information. We wanted to make it easier for people to find us and we wanted to tell them about our company so we could help them with their tennis court needs.
One of our first webpages, in 1996
As I look back on the sites we ran from 2003-present it strikes me that they became increasingly company-centric. We were focused on evolving the company image and our sites absolutely reflected that with an overwhelming focus on us and our brands. Navigability came second. Ready access to product information was perceived as less important than compelling imagery and content delivered in unusual and interesting ways. It seemed like the right approach at the time yet it's almost night and day from our new site.
Yes, I believe that visitors will find the new Har-Tru website – www.hartru.com - considerably less company-centric and a lot more customer-centric. It is streamlined and straightforward, incredibly easy to navigate and practical to use. The commerce functionality allows customers to find and buy what they need in as little as three clicks. Company contact information remains readily available because we still love getting on the phone with people and sharing our knowledge and experience in ways that help them build and maintain the best courts in the world. The site still features some great imagery but brand is balanced with what customers need.
In closing, as I look back on the evolution of our website the question for me is: Were our website choices a reflection of a broader trend in web design that many companies went through or were they more about where Har-Tru was and specifically what we were going through as a company? What do you think?