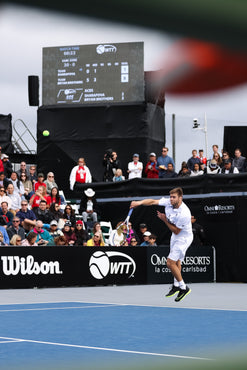 For nearly 90 years, Har-Tru has been synonymous with clay court tennis. Three years ago, the company quietly began making in-roads into the hard court market.
In Spring of 2018, a group of contractors met with officials from Har-Tru to test a small-batch production of a new acrylic surface – Har-Tru Sports Coatings. The group discussed yield, pigments, weather, labor, and the ins and outs of constructing tennis courts. As they talked shop, their insights helped refine and grow a new product line.
Throughout that year, Har-Tru associates went onsite to assist with installations, field test the new surface, and get feedback over time on how the product was working. The goal was to produce a reliable, consistent, and playable surface with the same high level of quality that Har-Tru clay courts are known for.
Fast forward to 2020, and Har-Tru Sports Coatings become the official playing surface of World TeamTennis.
So why did a famous clay court company start making hard courts?
To begin with, there are a lot more hard courts than clay in America. Nearly five times as many. For a company with nine decades of experience in the tennis market, that's too big of an opportunity to ignore. Equally important, Har-Tru has a long company history of engineering innovations.
The company created  the crushed-stone Har-Tru surface in the 1930s. They pioneered subsurface irrigation in the '80s — a system that was eventually installed at the All England Lawn Tennis & Croquet Club (home of Wimbledon). Starting in the late '70s, they began designing and manufacturing all kinds of maintenance tools to help clubs and homeowners groom their courts. They've developed hybrid surfaces, like the ClayTech carpet and clay surface, and they've invested in or invented an array of court products — from robotic ball retrievers to hydraulic shoe cleaners.
"Getting into the hard court market was almost inevitable," said Pat Hanssen, former tennis pro and president of Har-Tru. "Innovation is in our blood, and tennis is in our blood. Our mission is to lead the tennis industry by creating better places to play. We're going to lead where we can, and go where the game takes us. "
By the time World TeamTennis announced that it would play its entire 2020 tournament at the Greenbriar Resort, Har-Tru Sports Coatings was the official court surface of the league. Custom dark gray and dark blue acrylics set the stage for a tournament that was one of the most successful in WTT history.
"Growing up training and playing on Har-Tru clay courts, it's nice to see them doing hard courts now," said Ryan Harrison, professional tennis player and former WTT MVP. "The WTT court was absolutely beautiful and it played really well."
Har-Tru's Sports Coatings is also the surface of choice for the ATP Men's Challenger Tour at the Boar's Head Resort, just down the road from Har-Tru headquarters.
The surface is made in the same Charlottesville, Virginia, facility that produces the world's supply of Har-Tru clay. There, in a new warehouse designed solely for acrylic surface manufacturing, chemists and craftsmen mix organic pigments and "solids" in different formulations to achieve a variety of acrylic surfaces. Opening the new facility reflects a significant growth in demand for the acrylic surface. Small-batch no longer, Har-Tru Sports Coatings is poised to become a fixture of the tennis industry.
"This is a very exciting time for Har-Tru," said Tracy Lynch, Vice President of Sales and Marketing for Har-Tru.  "While being the leader in clay court surfaces for the past ninety years, this is a huge step for us becoming the world-wide leader for all tennis court surfaces."
It took 90 years for Har-Tru to add an acrylic surface to their line of products, but it looks like it won't be long before we see their hard courts all around the country.
Credit: Photo by Ryan Loco