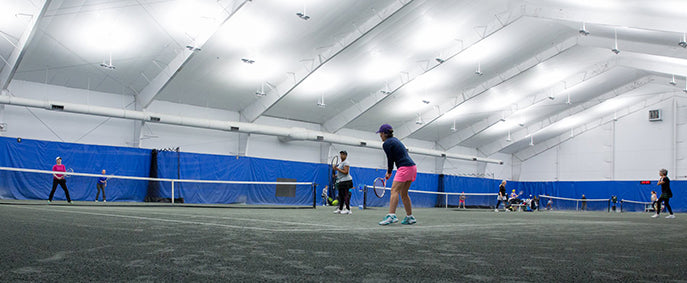 Har-Tru and Sports Interiors have announced a partnership agreement to endorse and support each other's products and services. Har-Tru is one of the leading names in tennis, and manufactures premium court surfaces, equipment, and supplies. Sports Interiors specializes in designing and implementing professional lighting systems for indoor tennis. They are the Official Indoor Lighting and Ceiling Liner Provider of the Intercollegiate Tennis Association and have hundreds of installations throughout the country.
"We've watched Sports Interiors grow and improve their product over the years," said Pat Hanssen, President of Har-Tru. "They have a passion for creating the best possible indoor tennis experience. As a company that's dedicated to creating the best places to play, we're excited to work with Sports Interiors to offer the tennis industry another way to improve their courts."
Sports Interiors has worked with indoor tennis facilities for 30 years to improve the indoor tennis experience.  This includes some of the most notable facilities in the country: USTA National Tennis Center, USTA National Campus, Northwestern University, and Oklahoma State University to name a few.  Har-Tru is an official supplier of the USTA National Campus, sponsor of World TeamTennis, the Music City Open, and many other events. Players all over the world have trained on Har-Tru courts and have a love for the experience they enjoy on them.
"The Sports Interiors Team is excited to partner with Har-Tru, which is such a well-respected company and leading provider of tennis court surfaces, lighting and court accessories in the tennis industry." says Dan Van Dixhorn, Partner at Sports Interiors.
Sports Interiors is based in the Chicagoland area and was founded in 1992.  Through implementations of our LED Tennis Lighting System and Liner System, Sports Interiors delivers a world-class indoor tennis experience.  For more information about Sports Interiors and its approach to improving indoor tennis, visit: www.sportsinteriors.com